This week's  Guest Blogger Shanna Maretsky,  is my beautiful daughter! She is a mother of a 5 year old son Hunter, and is a full time college student in the field of Respiratory Therapy, graduating in February 2011. Shanna has endured many obstacles as well as personal triumphs as a single mom, mastering The Law of Attraction. At a very young age she showed a keen knack for creative writing. I am excited to have her as a guest blogger from time to time because her life seems to be in "FLOW" at the moment! She is attracting magic and miracles, and our readers will find interest in her travels!  Shanna has tremendous vision, creativity, courage and determination to succeed in her life.
The month of September is SERVICE MONTH,  and just under the wire we wanted to devote this article to the concept of Service.
"The best way to find yourself is to lose yourself in the service of others."
Mohandas Gandhi
By Shanna Maretsky
Most of us are very fortunate. Though we can easily get caught up in the daily struggles of our own lives and families, we truly have so much to be grateful for. It's when we can think beyond ourselves and show compassion for others that we really can share the gifts of our abundance.
The simple act of volunteering and reaching out in the community is a remarkable way to see how much value each of us has to contribute when we put our minds to it. If everyone made a conscious effort to regularly make a difference in the lives of others the world would be a much more harmonious place.
Today I had the opportunity to get my hands dirty and work with the amazing employees of Home Depot who volunteered their time, materials and labor to landscape the YWCA of Salt Lake City. In a few short hours, Team Depot was able to create beautiful gardens and grassy areas for the families who call the shelters at the YWCA home. The response from the facility and its residents was so immensely gratifying.
It's in those moments that we forget about ourselves, and apply our energy with such a positive strength that nothing but goodness comes from it. Plants and flowers embedded in the earth will serve as continual reminders to pay our gratitude forward and spread beauty throughout our lives.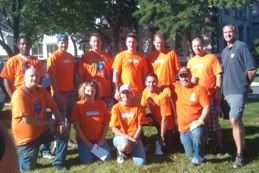 True fortune isn't a dollar amount in a bank account; it's the feelings of abundance that grow from gratitude, joy and compassion.
We have the choice to shine our light of compassion today and everyday. No matter how you choose to do it, you will only be adding good to the world.
Did you like this?
If so, please
bookmark it
,
about it, and subscribe to the blog
RSS feed
.